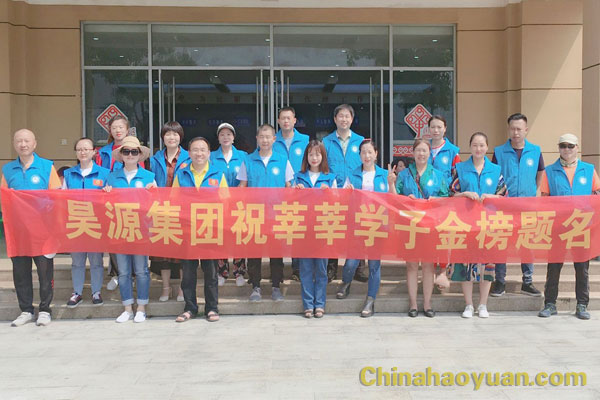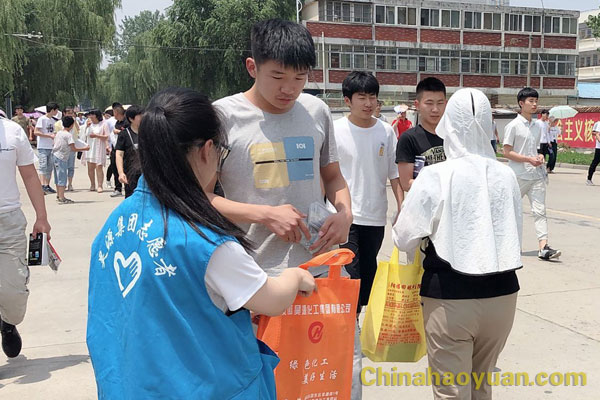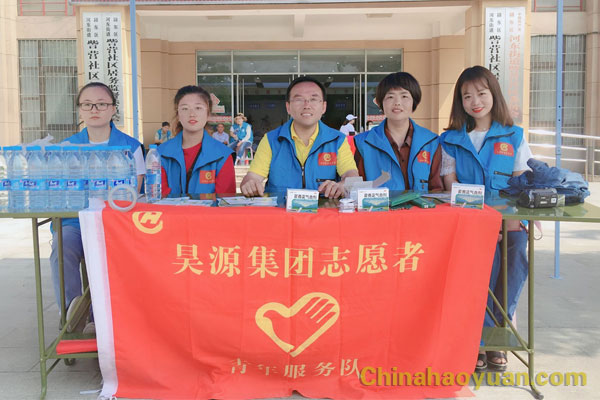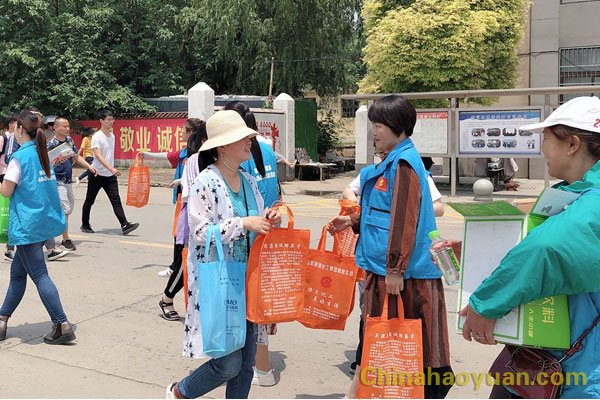 Ten years of hard study, a gold list title. The annual College Entrance Examination arrives on schedule. In order to help students realize their dreams and create a civilized, harmonious, safe and peaceful examination environment for candidates, Haoyuan Group Volunteer Service Team and Brothers Volunteer Team jointly launched the volunteer service activity of "Helping College Entrance Examination - Volunteer Action" from June 7 to 8. More than 20 volunteers were organized to set up sun-shading tents, volunteer service posts and emergency medical stations in Yingdong Suburb Middle School of Fuyang, providing free examination stationery such as 2B pencils, erasers and pencil sharpeners for candidates, providing parents with pure water, small fans, benches and other summer-proof and rest supplies, as well as emergency medicines such as Fengyu essence and Huoxiang Zhengqi water. The volunteers communicate with their parents about the skills of accompanying examinations and help the examinees relieve the pressure of examinations. The volunteers not only serve the examinees well, but also the parents and drivers who send them to the examinations enthusiastically.
During the examination, volunteers also acted as environmental propagandists and traffic coordinators, guiding candidates and parents to maintain the surrounding environment of the school, actively helping sanitation workers clean up garbage, assisting traffic police comrades to guide the orderly passage of vehicles, prompting car owners to prohibit whistling, and received some unanimous approval. Despite the hot weather, volunteers are still energetic, enthusiastic and meticulous to serve candidates and parents, their busy figure has become a beautiful landscape.
At noon, Haoyuan Restaurant served the volunteers with rice dumplings, duck eggs and other rich lunches. We also felt the atmosphere of the Dragon Boat Festival.
Over the years, Haoyuan Group has been actively engaged in various public welfare undertakings, adhering to the corporate culture concept of "Huize employees and serving the society". Haoyuan Group will continue to practice its corporate social responsibility, help the most needy groups in society, lend a helping hand, make a modest contribution to social public welfare, and contribute to the harmonious development of society.